Since his debut album 'Life in Easy Steps' in 2013, Robert Vincent from Liverpool has been one of the most acclaimed new voices in Americana, Country and Folk. Having received the inaugural Emerging Artist Award from 'Whispering' Bob Harris in 2016 – who described Vincent as "absolutely magnetic", Vincent was then invited onto BBC4's 'Old Grey Whistle Test: For One Night Only'. That performance marked a real breakthrough for Vincent, establishing him as one of the UK's leading lights in Americana and propelling him to #1 in the iTunes Country chart. Catch Robert on his 'This Town Tour 2021/22 with 'Strings Attached' on selected dates.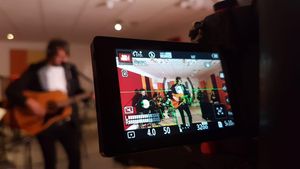 ROBERT & ETHAN JOHNS AT BERKLEE
In May of 2019, we were asked by Ethan Johns to be the live band for a bunch of brilliant students from Berklee College of Music. The results will stay with me for a very long time. Here's a snippet and a glimpse into the process of that 3 days. To work under such sonic genius in a studio as Kevin Killen (Engineer/Producer) and Ethan Johns (Producer/Engineer) in the setting of Real World Studios was a unreal experience. From myself and the band, Anna Corcoran, Jim Kimberley & Danny Williams we hope you enjoy this video.
MY NEIGHBOUR'S GHOST
'My Neighbour's Ghost' is an upbeat, rhythmic song and the video is charming.  Check it out.  The song was produced by the brilliant Ethan Johns, who has worked with the likes of Ray Lamontagne and Laura Marling as well as writing his own material.  In recent years, Robert Vincent has established himself as one of the best voices in UK-based Americana and is described as: "…the real deal," by the BBC Radio 2's legendary Bob Harris 
THE ENDING
Taken from the new album 'In This Town You're Owned' Filmed by Matt D. Brady, In 'Henley-on -Thames'. Written By Robert Vincent & James House
Performed By Robert Vincent - Guitar Vocals Anna Corcoran - Piano Vocals Danny Williams - Bass Ethan Johns - Mandochello, Accordian, Acoustic Guitar. Robbie Taylor - Mandolin Jim Kimberley - Drums Adrian Gautrey - Keys
BURNS LIKE COTTON IN THE FIELDS